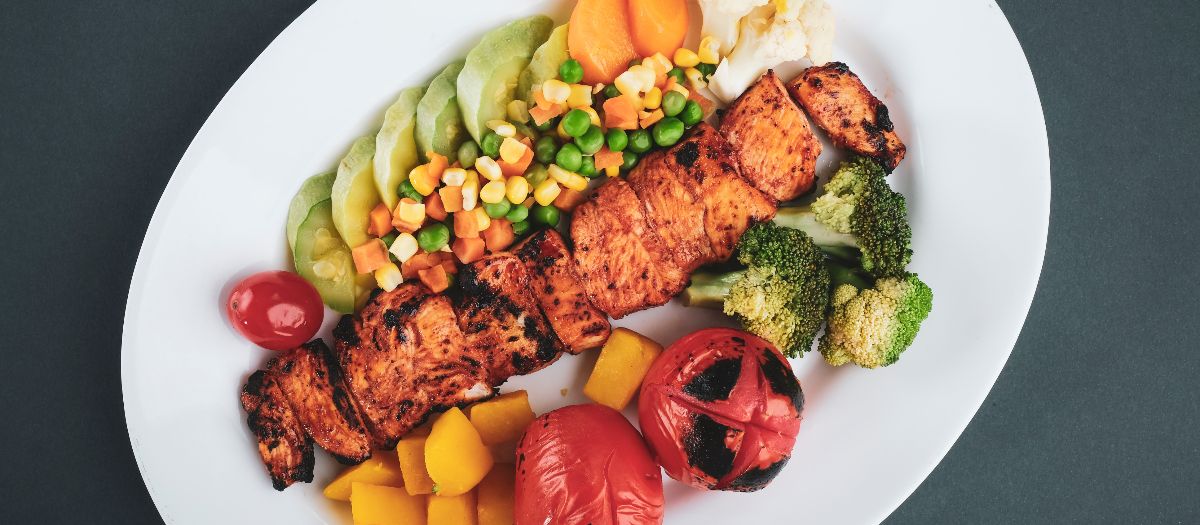 What is a Healthful Diet?
by Laura J Hieb, ND on
June 15, 2022
There is a lot of controversy these days about what constitutes a healthful diet.
But when looking at what makes a healthful meal, there is a lot of consensus.
Everyone can agree that vegetables are good. They are high in nutrients and fiber, so fill your plate with 1-2 cups of these--or more. Have 1-2 types cooked and add a salad too, if you wish. Avoid more than one serving (1/2 c) of starchy veg per meal (corn, peas, white potatoes, sweet potatoes, winter squash).
Protein is also good. Protein helps keep our blood sugar levels even, helps to prevent sugar cravings and makes up our neurotransmitters (the chemicals that help our brains to function) and our immune system, among other things.
I find that many people, especially female people, do not eat enough protein. Aim for a palm-sized portion of meat or fish, or 3-4 eggs per meal. Plant protein is also an option, but you have to eat more of it, about 1 cup of cooked beans per serving, unless you are eating soy--such as tofu, and then 1/2 cup of firm tofu is a good amount of protein. Protein powders are also an option.
Add 1-2 tablespoons of healthful fats, such as grass fed butter of ghee, olive (oil) avocado (oil) or coconut (oil) per meal.
You can add a serving of whole grains if you wish, especially if you are not having a serving of starchy vegetables. When grains are refined and/or ground into flour, they raise our blood sugar levels much more than whole, unprocessed grains. Try quinoa, or brown/basmati/wild/black rice, buckwheat or millet. Pasta, white rice, couscous and dinner rolls/bread are best as special occasion foods and not everyday ones.
Have some fruit for dessert if you wish: 1/2-1 cup berries or sliced stone fruit (peaches, nectarines, plums, etc) and coconut milk or cream. Or 1/2 an apple or pear with nuts or nut butter.
What to drink with meals? You don't have to drink anything with meals, but if you like to drink beverages with meals, here are some options: bone broth; 1 cup of hot water with 1-3tsp of raw apple cider vinegar; a small cup of strong ginger tea; a cup of coffee; or occasionally 5 oz of red wine. Avoid drinking more than a couple sips of water (room temperature or warm--NOT iced) with your meal so as not to interfere with your digestion.
You can also mix it up! Put your fruit in your salad and have your starchy veg for dessert. One of my favorite desserts is roasted, peeled sweet potato with a little butter, cinnamon and pecans or walnuts, warmed up.
Or make a stew with the protein and veg. Be sure that if you are using a pound of meat, that you are getting a maximum of 5 servings from it, to be sure to get enough protein per serving.
Try cauliflower rice instead of rice, or zucchini or sweet potato "noodles" instead of pasta.
You'll be increasing your nutrients and decreasing empty calories----which will likely lead to weight loss.
back